Hi there!
Thanks for meeting me here! The wedding photography I've done since moving to Raleigh so far has been in the role of second photographer (or "second shooter," but I don't like using that language as much). Because I want the primary photographer to easily showcase her/his photos with mine woven through, I don't usually post the photos I capture during those wedding days on my blog as often.
With that in mind, I'm extra excited to share photos from a wedding styled shoot I was a part of at the end of July. I love me some romantic vibes from a bride and groom! Styled shoots are where different industry professionals collaborate to put together a styled event, which is basically taking photos as if it were a real event/wedding.
I'll tag the vendor info at the bottom of the post, but I'll also mention them throughout! Amanda from On Cloud 10 Events connected all of us to put this event together - thanks, Amanda!
Wedding Styled Shoot - Stonewall Farm, Youngsville, NC
The gorgeous bride and groom seen here are Natascha and Corey! They had just gotten engaged the week prior to this (remember, this is a fake wedding setup - not a real one, haha!), so it was really easy and natural for them to be ADORABLE and lovey-dovey together.
INCREDIBLE calligraphy by the ever-so-sweet Amanda Decker with The Gilded Mandarin, and furniture, decor, & setup by Amber with Something Borrowed Event Rentals! Check out their sites, linked at the bottom of the post, to see more of their beautiful work!
And the kiddos… the flower girls (twins) and and the ring bearers (ALSO twins!) were super cute, full of energy, and fun to work with for the afternoon!
Our lovely bridesmaids - thanks for rocking it, ladies!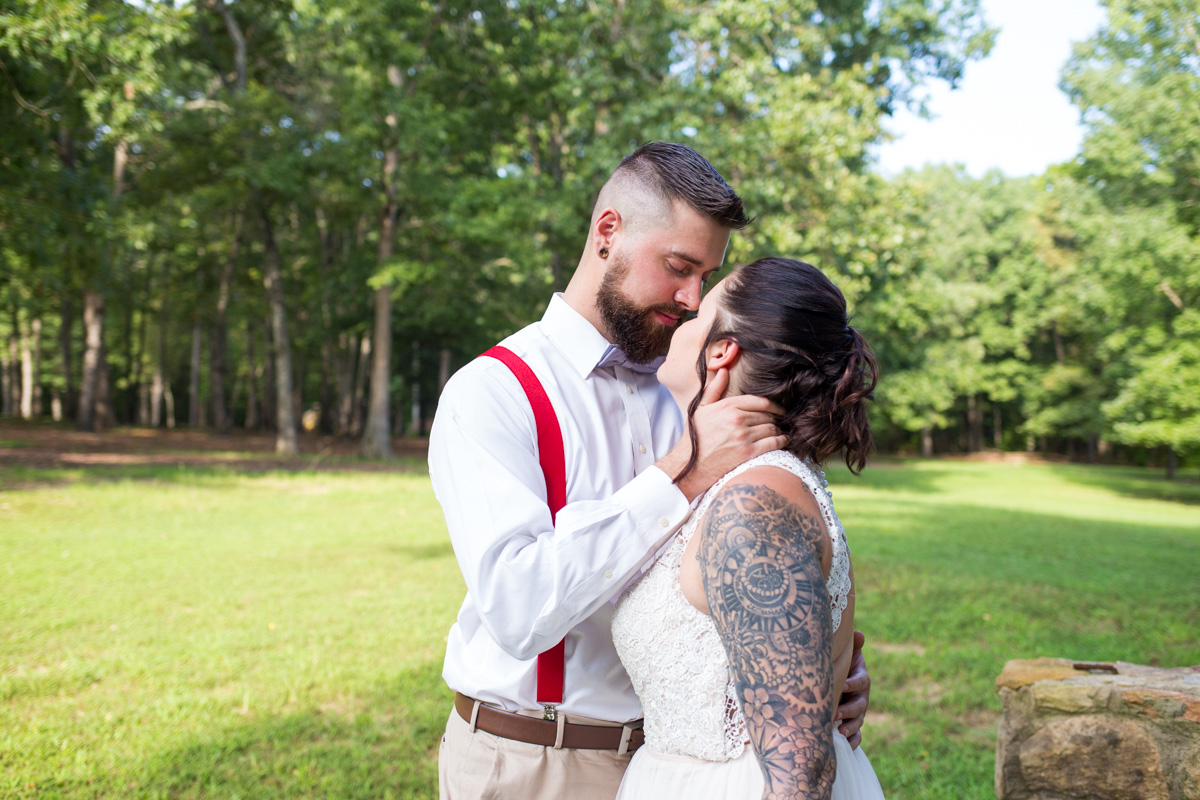 Y'all, I am a smiley photographer. I love the photos when we drop the smiles for a more serious look too, but I just can't pass up all the joy that comes with the subjects of the photos smiling! Especially on a wedding day… Gotta get a few classic-looking photos without smiles, but then show me that joy and laughter!
The funny thing about styled shoots - These girls just met each other, and they did an incredible job of acting like they were BFFs! :)
I MEAN… I don't know if your heart swoons over some photos as much as mine does, but dang. This couple and their love are beautiful. <3
Stonewall Farm has so many beautiful photo spots… Check out this arch covered in greenery!!
And I'll leave you with this beautiful ballroom spin for the end <3
Vendors & models — I loved working with all of you and look forward to our future collaborations!
Looking for more wedding photography? Check out some of my wedding photography from Virginia, in my "early years" blog posts here and here!
Interested in chatting about your own wedding coming up? (Which means you're engaged - congrats!!) Contact me here and we'll start the conversation!
One last thing - don't forget that fall mini-sessions are coming up! Check out the page to see all the photo art included!
Thanks for viewing the photos, and I'll see ya back on the blog next week!
In light & love,
Kelly